Reliable Wake Up Calls Made Easy!
I'm a frequent traveler and have WakeupLand set to call my cell phone wherever I'm at, its a great solution.

Jason D., FL
WakeUpLand Gift Cards
WakeUpLand gif cards each have a $20 value and are good for any of the services we offer, including recurring memberships.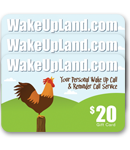 The perfect gift for anyone who needs to wake up on time; students, employees, chronically deep sleepers, the elderly, frequent travelers, anyone! Gift cards can be mailed individually to each recipient, or we can ship them all directly to you. Individual shipments will include a special note with the message of your choice on it.
Use On All Of Our Services!
Use the WakeUpLand gift cards on all the services we offer. Users can take advantage of every service that we offer, as well as the special features available for both wake up and reminder calls!
Redeem Your Gift Card(s)
Our gift cards will never expire, once you purchase them, they are good for life. Even if the person you're giving it to only needs wake up calls on the rare occassion, they're account will be good for years to come!